Photo filter tutorial
Now you can choose what pictures you will see on our web-site. Using our photo filter technology you will be able to hide explicit pictures if you don't want to see them while browsing gettinglaidtonight.net.
We have three types of photos on the web-sites:
1.
Normal
pictures with no nudity at all
2.
Sexy
erotic pictures but no below waist nudity allowed
3.
XXX
very explicit pictures that include below waist nudity
Your photo filter is located in the top right-hand corner of every page of the site, except the Upgrade and Account details pages:

1. If you choose the «Normal» option there you will see only Normal pictures without any nudity and all the rest of the pictures will be covered:

2. «Sexy + Normal» option means that you see Normal and Sexy pictures and XXX ones are hidden from the view:

3. And «XXX + Sexy + Normal» setting will show you all the pictures with no cover (this option is available for GoldVIP members only):

Please note: you must have JavaScript enabled in your browser to use our photo filter on all the pages.
If you don't have JavaScript go to: Profile » Account details
...and activate the filter there: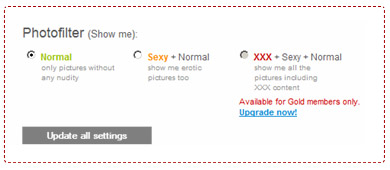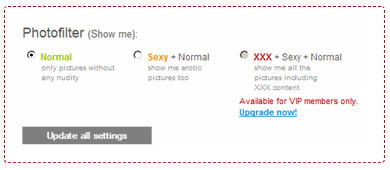 Happy flirting!