The pleasure of making love: 10 good reasons to have sex with each other
Why do we have sex? Is it our instincts that drives us or maybe our hormones? Is it really love or perhaps calculated? Many researchers believe that people have sex for simple reasons. A U.S. study proves the opposite: there are hundreds of different reasons for the most beautiful game in the world. We proudly present 10 of the most common and best reasons "why we have sex".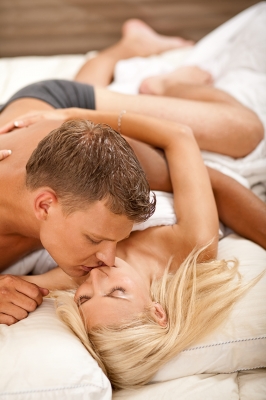 Image:
FreeDigitalPhotos.net
Because you can hardly be closer

Being touched is very important for mankind and is also one of the best ways to show love to your partner. Because being caressed gives us a sense of closeness and security, this releases a cocktail of endorphins in our body. When two people have sex with each other, they give each other in the most intimate way, great happiness. And that makes the experience so very special. This way to help and doing something good for your partner and to feel pampered at the same time, led interviewed couples, regardless of gender, to be one of the most important reasons to have sex with each other.
Because it's fun

It's about the most beautiful thing in the world. To have sex is pure pleasure. There is full agreement both with men and women (men: 3rd place, women: 2nd place). Normally, sex costs nothing and requires no massive amount of planning. Everything you need for this are two people who covet each other, want each other and want to have sex. Also it gives some spice to add a spontaneous adventure to the daily grind.
Because we want to be satisfied

When people are aroused they want to feel sexually satisfied. For most couples who have sex with each other the ultimate experience is to have a orgasm together.
Because magnetism isn't the only law of attraction

I want her/him! Again and again the gaze wanders to the person of desire. Someone is there, which fuels the libido and awakens the desire - triggered by a specific person. If the desire is focused on that individual, it is usually much stronger than a vague fantasy, particularly when related to the human hunger for sex. The desire is personified in men and women at the forefront.
Because I love my partner

Sex without love is possible - and is often practiced with infidelity or affairs. Love without without sex is rarely found. Very romantic descriptions of the sexual acts make it clear what specific role sex has in a loving relationship. It is the desire to feel particularly connected together. Again, all male and female respondents agree: Love is a wonderful reason to sleep with each other. However, just after a breakup enjoy many a thing or just a pure sexual adventure. Finally, sex without love also has its charms.
Because I want to have a sexual adventure

Living intimately together is a giant playground of eroticism, with plenty of space for lustful fantasies. And they get aroused each day by the media. In magazine programs and talk shows, different varieties of eroticism are presented, discussed, and hardly anything is left out. And who wants to see more of is, will find it on the Internet. It arouses curiosity and encourages the desire for an expedition into the "realm of desire." "Is this something for me?" "How does it feel? '" Thats what I need to experience! "... It quite worth to look out over the edge of one's own side of the bed and try new things. An unbalanced diet is also not healthy after all. And a bit of sexual variety on the menu doesn't hurt.
Because it is healthy to have sex

The human body with all its features is a marvel of nature. And during sex it pours a lot of hormones that signal us: Keep it up, that's good! A natural process that contributes to the preservation of our way and ensures that we always get new sexual appetite. Moreover, the sex-distributed endorphins relieve pain or pain can be turned off for a short time altogether. Strictly speaking, the phrase "Honey, not today, I have a headache," is actually counterproductive. Oxytocin also inhibits the action of the stress hormone cortisol and stimulates the production of white blood cells. These are the body's health police and strengthen the immune system. Another nice side effect of sex is that you - depending on intensity - burn about 360 calories an hour. You can treat yourself to a hamburger at a fast food restaurant, before or after having sex instead of running for forty-five minutes. Not a bad alternative, right?
Because I want to have an orgasm

"The orgasm during sex is overrated." Is this claim correct? According to men and women who took the survey this doesn't apply. The sexual climax for both sexes is a top-ten-argument. Fact is, if one climbs aware to the "peak of pleasure", the orgasm will also be a memorable one. Perhaps we should rather say: "Copulation is only part of what contributes to a grand climax. The bells and whistles has a great impact not less. So already the journey is the reward. "
Because I need comforting

Sometimes you feel sad, depressed, or just not in a good mood. There are various reasons for this. But just when you had a fight with your partner and therefore the mood really bad, the question arises: Can one change this mood through sex? How does that relate to "sexual reconciliation"? Do I really want to sleep with someone with whom I have just fought? Will it help me or can me it console me for what just had happened? One thing should be clear: Sex does not solve problems and helps temporary against sadness. Nevertheless, the distributed of endorphins during sex, can drown out the numb depression, or increase the feelings of happiness after a recovery of a fight. So why not use this fact. It can not hurt, anyway. This is also what men and women said in the survey.
Because we want to have a child

The desire to have a child was the last on the list of reasons to have sex with each other. And this once again shows that we know from personal experience best: sex just for procreation is long gone, but we have a myriad of other reasons to enact our pleasure.